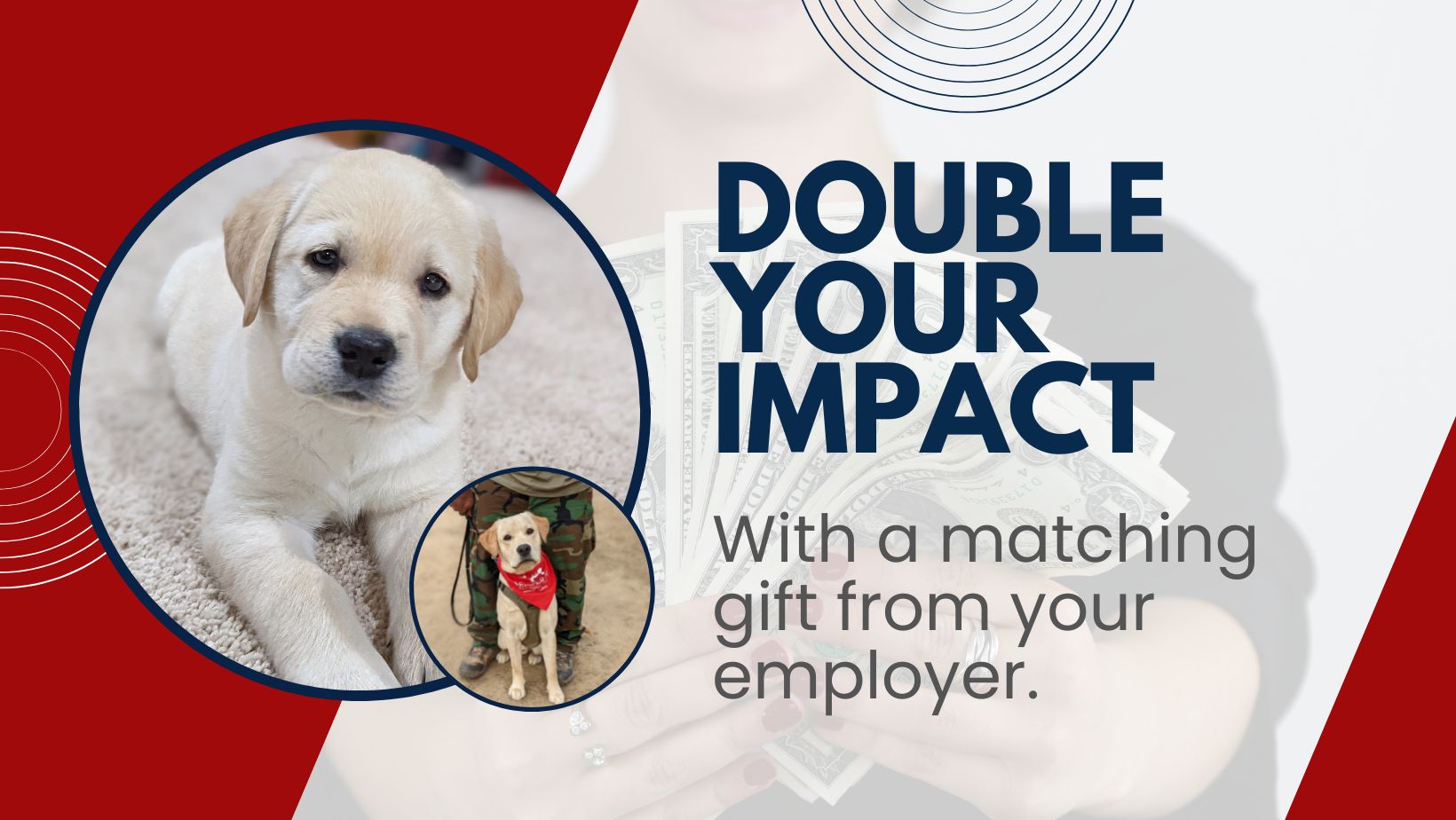 Semper K9 Assistance Dogs has inspired many companies and organizations to match donations their employees make to us. That means every contribution you make to enhance the quality of life for wounded US service members and their families can make double the impact at no extra cost to you. If you serve with us as a volunteer, your company may also offer a volunteer grant program.
Search for your employer below or contact your HR department to ask about matching gifts to potentially double or even triple the impact of your gift.
At Semper K9, we are dedicated to providing custom-trained service dogs to wounded veterans and their families free of charge.
We are a public charity funded by YOU.  An easy way to double your contribution is through employee giving programs.
Many corporations match employee donations (or the tax-deductible component of your membership) and who knows?  Your company may be one of them!  Please check and if not, please suggest that they add our Foundation.  We'll be eternally grateful and so will many men and women who will be helped by your efforts.
Thanks for checking to see if your company matches your donations!
Taking Advantage of Your Employee Match 
Employee match programs require a small amount of effort to engage, but the work will pay off for the nonprofits you choose to support. Here is how you can make the most of your employee match program.
    ● Step one: Learn the rules. Some companies have a preferred list of charities they partner with, while others match gifts to any charity an employee may support. The match likely has an annual limit. If you don't know how your company's match program works, contact your Human Resources department today! Don't forget to ask if they allow employees to volunteer their time with local charities. Some companies offer paid time off to staff when they volunteer with an organization in their community.
    ● Step two: Make your donation. Within the guidelines, your company provides, select a charity. Be sure to keep proof of your gift or volunteer time, which may require providing contact information for a receipt.
    ● Step three: Dot the i's and cross the t's. Typically, companies only need a receipt as proof of contribution and a single form requesting that they match the donation. Provide these (and any other required materials) promptly to the appropriate personnel at your company, likely the Human Resources department or Corporate Social Responsibility (CSR) team. Confirm that the match was made.
Don't leave money for social good on the table! Take advantage of your employee match program this year and every year.
Frequently Asked Questions
What are employee matching gift programs?
Employee matching gift programs are corporate giving programs in which the company matches donations made by employees to eligible nonprofit organizations.
It's an easy way to double your contribution to us!
What are volunteer grant programs?
Volunteer grant programs are corporate giving programs in which companies provide monetary donations to organizations where employees volunteer regularly.
If you volunteer with us, it's an easy way to provide us with additional financial support!
How do I request a matching gift or volunteer grant?
Requesting a matching gift or volunteer grant is normally a five-minute process that must be initiated by the donor / volunteer. You can do this by filling out and submitting a paper match form provided by your employer or through an electronic submission process.
Please search our database for company-specific information.
How is this information obtained?
What if I still have questions?
For questions regarding your company's programs, please contact your employer's HR or community giving department. Much of the necessary information is also available on your company intranet.
For questions regarding submitting a matching gift or volunteer grant request to us, please contact us using the information provided on this page.