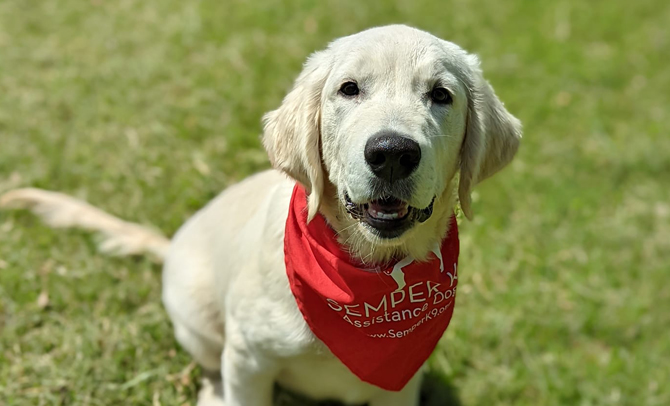 Dogs
Ziggy
Semper K9 is honored to announce the acceptance of Ziggy into our Service Dogs for Veterans program. Ziggy is a Golden Retriever donated by Helen Findlay of Providence Farms in Rixeyville, Virginia. Ziggy is named in memory of Lt. Glenn Daubert Ziegler, US Navy.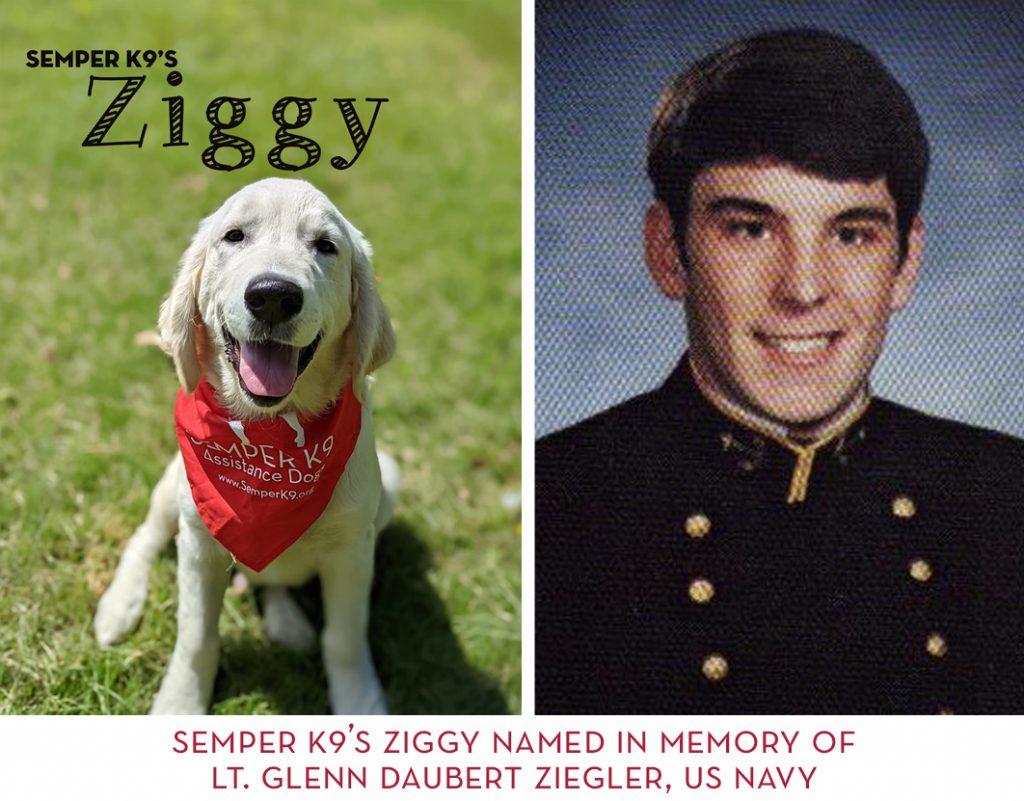 The following information has been collected from news releases & memorial pages.
Glenn 'Ziggy' Ziegler was born June 3, 1959 in Drexel Hall, PA. Glenn graduated in 1977 from Upper Darby High School. Basketball 2, 3; Soccer 2, 3, 4; Lacrosse 2, 3, 4; Student Council 2, 3; Honor Society 4; Distinguished Honor Roll 2, 3, 4; Varsity Club 3, 4. He won the American Legion Award. He was nominated to the Naval Academy by Congressman Bob Edgar (D-7th.)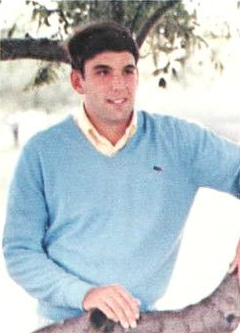 "Ziggy came to us in the summer of '77 from Drexel Hill, Pa. As a plebe Glenn occupied himself mainly with JV soccer and lacrosse T-tables. In between sports Zig found time to rate dragging and driving privileges as well as baptizing our favorite 1/c during Army Week. Saying farewell to varsity sports as a youngster Zig concentrated on walk-on-water request chits. "In accordance with the directives set forth by the commandant…" allowed Zig to take as many weekends as the firsties. 2/c year brought with it academics, memories of Mama Ziegler's 6 foot hoagies, a foreign exchange cruise to Canada, a new car and the world's most ridiculous tool kit. As a 1/c Glenn was always willing to give of himself — just ask any girl on the East Coast. Yet no matter what he was doing: loaning out tools, fixing his or his roommate's car stereo with a jigsaw, or getting fried by a youngsterette, Zig always wore his winning smile. One thing is certain. We will not soon forget a super friend and truly fine officer." -From US Naval Academy Memorial Hall. (https://usnamemorialhall.org/index.php/GLENN_D._ZIEGLER,_LT,_USN)
A-6E Intruder BuNo. 161673/AJ-503 of VA-35, US Navy, crashed near coast of Venezuela during training mission Apr 1, 1985 North West of Santiago, Panama while operating from USS Nimitz (CVN-68). Plane and its two crew has never been found.
From 28 March– to 12 Apr 1985, due to heightened tensions resulting from fighting against Marxist rebels in Central America, the USS Nimitz steamed off the eastern coast of that isthmus for "U.S. Naval Presence Operations."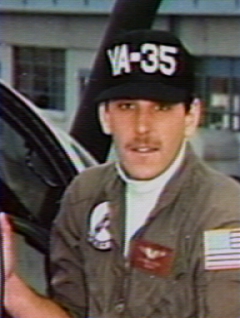 Aircraft from the carrier Nimitz along with Air Force and Army units searched a large area of jungle and mountains in Panama for two Navy fliers whose A-6 Intruder jet disappeared. The men were identified as Lt. Cmdr. Derek Holmquist, 35, of McLean, the pilot, and Lt. Glenn Ziegler, 25, of Upper Darby, Pa., the bombardier-navigator. Holmquist and Ziegler, missing since Monday, are assigned to Attack Squadron 35 based at Oceana Naval Air Station.
"He is my hero for setting his sights on his dream, working hard to achieve it, and giving his life doing what he loved and in service to his country," said his cousin, Jacquelyn Jones, who nominated him.
If you would like to make a memorial gift in honor of  Lt. Ziegler to benefit Ziggy's training & expenses, please visit http://donate.semperk9.org.
If you are interested in sponsoring Ziggy's training & his veteran, please contact Shannon Schultz at shannon@semperk9.org.