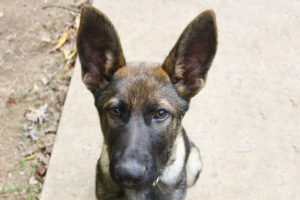 Dogs
Timmy & Wayne
Semper K9 is proud to introduce Semper K9's Timmy. He is a German Shepherd donated by Des Dunne Blau Zeile Kennel. Timmy is named in memory of Master Sergeant Tim Hankins, US Army Special Forces.
Born in Orange, Texas, on December 29, 1975, Timothy was the son of Dennis Hankins and Carolyn Reese Hankins. He was a 1994 graduate of West Orange- Stark High School where he played football and was a member of the Drama Club that won state level competitions his senior year. Timothy loved to play guitar and learn about his family history.
He had a lifelong dream of joining the United States Army, which he fulfilled in 1995. He served in the Unites States Army for 19 years and the Texas National Guard for 2 years. His tours of duty include Iraq, Afghanistan, Italy, England, Scotland, Haiti, and others.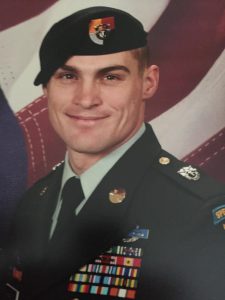 He served in the 82nd Airborne as a Jumpmaster and later became a member of the Green Beret as a Weapons Sergeant. During his service received multiple awards including 2 Bronze Star Medals, Purple Heart, 6 Army Commendation Medals, 8 Army Achievement Medals, 6 Army good conduct Medals, National Defense Service Medal with Bronze Service Star, 4 Afghanistan Campaign Medals with Bronze Service Star, 3 Iraq Campaign Medals with Bronze Service Star, Global War on Terrorism Expeditionary Medal, Global War on Terrorism Service Medal, Armed Forces Service Medal, Humanitarian Service Medal, 3 Noncommissioned Officers Professional Development Ribbons, Army Service Ribbon, 2 Overseas Service Ribbons, NATO Medal, Multinational Force and Observers Medal, Right Side Awards, Presidential Unit Citation (Army and Air Force), Meritorious Unit Commendation (Army), Army Superior Unit Award, Combat Infantryman Badge, Expert Infantryman Badge, Master Parachutist Badge, Basic Parachutist Badge, Badge Combat and Special Skill Badge Marksmanship Qual Badge, Expert, Bar, Weapon: Rifle (Inscription: Rifle), Special Forces Tab, and 6 Overseas Service Bars.
"Timmy was a perfectionist when it came to his craft. His tactical knowledge and skill set was that of only a true operator." said Paul Davis, close friend of Hankins. "What made him really special is that he truly cared that you understood the instruction. He knew how important it was for people to to know how to defend themselves [in combat] and he was passionate about it."
Hankins passed away on October 8, 2016, while stationed at McDill Air Force Base in Tampa, Florida. His final resting place is Hillcrest Memorial Gardens in Orange, Texas. He is survived by his wife Casey Hankins; and sons, Timothy John Hankins II and Reese Dillon Hankins.