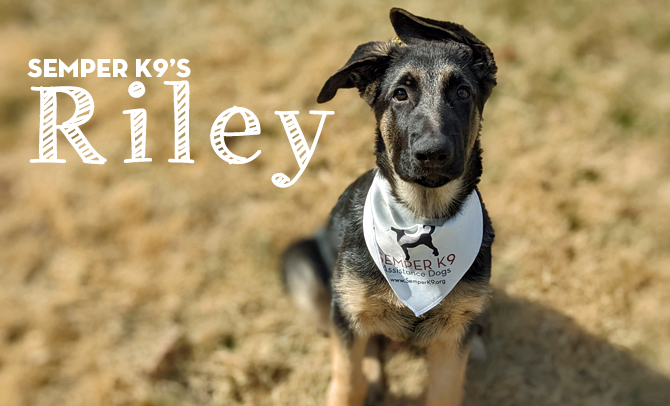 Blog
Riley
Semper K9 is proud to announce the acceptance of Riley into our Service Dogs for Veterans program. Riley is a German Shepherd named in memory of Lance Corporal Riley Kuznia. Semper K9's Riley was generously donated by Lance Corporal Kuznia's mother, Markelle Kuznia, and is the offspring of his beloved dog, Molly.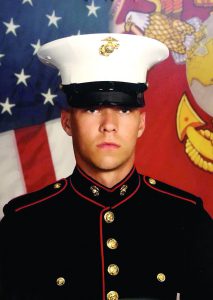 Riley Stephen Kuznia was born to Adam and Markelle Kuznia in Bemidji, MN. He was one of four children. At two weeks of age, he moved to Karlstad, MN, where he spent his childhood. "Riley was always a quiet, thoughtful child, loving the great outdoors. You never saw him in the house or watching TV," said his mother, Markelle. Riley spent most of his childhood at the rink playing hockey, which he began playing at the age of three, or out fishing. He would fish year-round in MN from a boat, a dock, or out on the ice. It mattered not to him as long as he had a line in the water. He also loved to hunt ducks and white-tailed deer. Hunting was always a family event; it was a time to cook big meals, laugh and tell stories about the big one that got away, and enjoy each other's company.
"Riley loved dogs and always had his "Duke" by his side. He was Riley's chocolate lab and hunting partner. He didn't have a lick of hunting skills but came along as the mascot.," said Markelle. "Duke passed away from cancer three months before Riley left for boot camp. It was very hard on Riley, to say the least." Riley didn't want to leave his mom without a dog, so he purchased a German Shepherd puppy. He said she needed company and someone to protect her when he was gone. The only thing he asked, was to name it Molly after the first female Marine.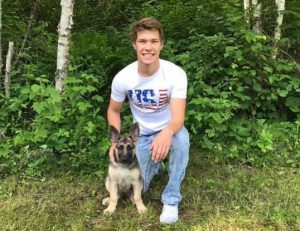 Markelle, doesn't ever remember a time in Riley's life that he didn't dream about serving his country, "It was something that we all knew he would do. In his junior year of high school, he decided on the Marine Corps. He wanted me to sign him up since he was only seventeen, but I refused. I told him that he could go and that we would all support him but he had to wait for his eighteenth birthday." One week after turning eighteen, Riley and his mom drove to Fargo, ND, and he signed up.
During his senior year, he participated in the poolee program preparing for boot camp. On July 10, 2017, Riley left for boot camp in California. He was beyond excited and ready for the challenge ahead of him. In boot camp, Riley was a silent leader, supporting his brothers and standing up for mental and physical excellence. He placed second in the iron man and was the first up the hill at the crucible, carrying the flag to the top. Riley also was a leader of other Marines in boot camp, MOS, and at the Barracks. He took great care to be a good example for all the Marines under his charge and always led by example.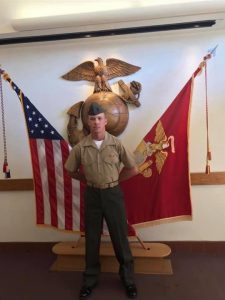 While at boot camp, Riley was interviewed several times for a position at the barracks in Washington DC, eventually getting the position. He worked as a guard until he passed his clearance to be moved to the White House Communications Agency. Riley had just passed all the clearances about five months before his death and was about two weeks short of finding out if he made WHCA before his death.
On January 1, 2019, Lance Corporal Riley S. Kuznia was killed in the Barracks in Washington DC at the hands of another Marine. Riley was coming off duty, and the other Marine was reckless with his gun that he thought was unloaded. Unfortunately, it was loaded, and Riley was tragically killed.
That day will forever be stamped in the minds of all that knew and loved Riley. He was kind-hearted, a fearless leader, loyal friend, beloved son, cherished brother, loved boyfriend and a dedicated Marine. He lived his life every day as if it was his last, never wanting to miss a second. He set goals for himself and never stopped working towards them until they were completed. He treated everyone with respect and always looked for the good in people. He loved like his heart had never been broken and respected all life. He will forever be missed and loved by his family, friends, Marine family and community.
Semper K9's Riley is a great addition to our Service Dogs for Veterans Program. For information on how to sponsor Riley's training and the training of his future veteran (and their family) please contact us here.