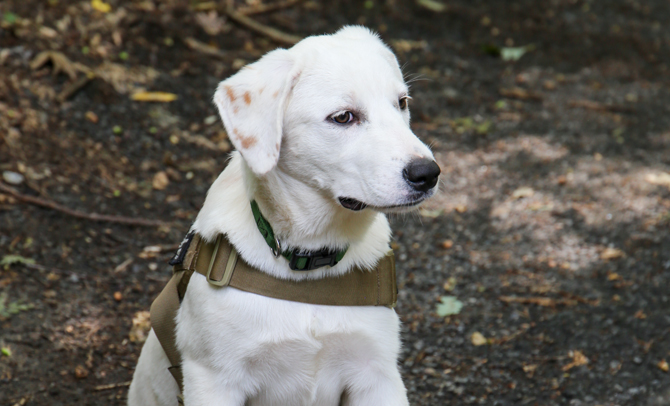 Dogs
Phantom
Semper K9 is honored to announce the acceptance of Phantom and Fury into our Service Dogs for Veterans program. Phantom is a 5-month old Great Pyrenees mix who comes to us from our rescue partner, Operation Paws for Homes. Fury is a 4-month old lab who was donated by Kate Gibbons.  Phantom and Fury are named in memory of the 95 U.S. forces killed and 560 wounded in Operation Phantom Fury in 2004.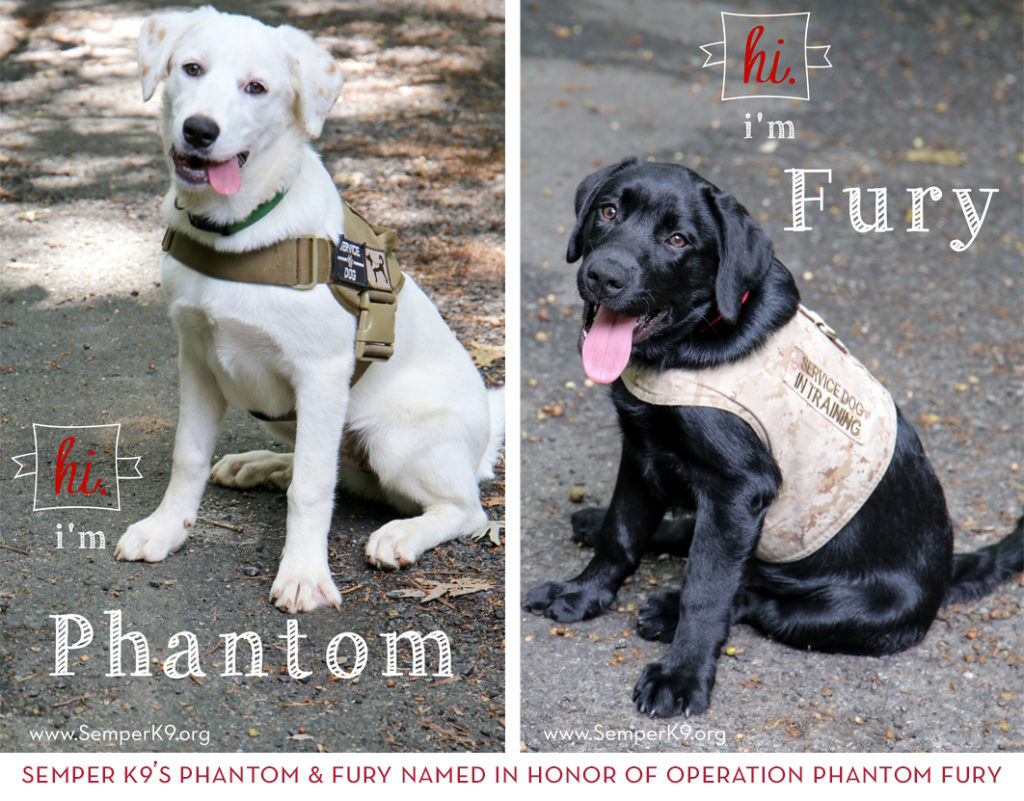 Operation Phantom Fury, also called the Second Battle of Fallujah, was a joint American, Iraqi, and British offensive in November and December 2004, which was led by the U.S. Army and Marine Corps against the Iraqi insurgents in the city of Fallujah. The U.S. military called it "some of the heaviest urban combat U.S. Marines have been involved in since the Battle of Huê City in Vietnam in 1968.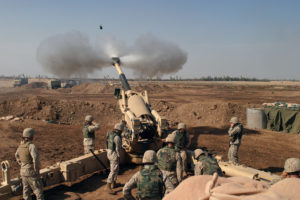 In March of 2004, four American private military contractors were ambushed and killed in Fallujah. Within days U.S. Marines launched Operation Vigilant Resolve (First Battle of Fallujah) to take back control of the city from insurgent forces, but soon after an agreement was reached in which the local population was ordered to keep the insurgents out of the city. However, insurgent strength soon grew, as Fallujah became a haven for Iraqi resistance fighters.
Coalition troops were grouped into two Combat Teams: Regimental Combat Team 1 (RCT1) and Regimental Combat Team 7 (RCT 7). RCT 1 was comprised of 3rd Battalion/5th Marines, 3rd Battalion/1st Marines, 23 Seabees, the Naval Mobile Construction Battalion 4, and the U.S. Army's 2nd Battalion/7th Cavalry. RCT 7 was comprised of the U.S. Army's 2nd Battalion/2nd Infantry, 1st Battalion/3rd Marines, 1st Battalion/8th Marines, and 2nd Battalion/12th Cavalry. The coalition troops were assisted by 2,000 Iraqi troops, as well as U.S. Army artillery battalions and aircraft.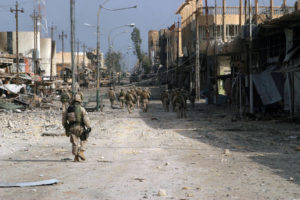 As coalition forces surrounded the city with checkpoints, more than 3,000 insurgents prepared fortified defenses. They dug mazes of tunnels and trenches and placed IEDs throughout the city. Homes were filled with propane tanks and large barrels of gasoline with ordnance wired to explode. To create covered positions to attack from, they placed barriers in the streets and inside buildings. Knowing that U.S. forces would seek out high rooftops as vantage points, insurgents bricked off stairways and created paths they hoped would funnel them into prepared fields of fire. American UAVs documented live-fire exercises within the city to prepare for the coming attack.
On the night of November 7th, intense shelling and air strikes pounded the city in preparation of ground operations. On the 8th of November, RCT 1 and RCT 7 began their offensive on the city with the help of artillery bombardment and continued airstrikes. With insurgents expecting an attack from the south and southeast, coalition forces adapted and changed their plans. RCT 1 assaulted the city from the north, while RCT 7 attacked the eastern part of the city. The combat teams took control of two major bridges to prevent any enemy retreat from the northern and eastern part of the city. The British Black Watch Regiment was engaged in a similar mission to block off the east and south sides of Fallujah.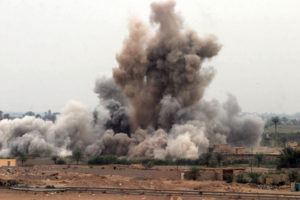 With the Army's armored support, coalition troops were able to gain control of key enemy positions. By the evening of November 9th, they were able to take control of the strategically significant Highway 10, which bisects the city. By the next evening, coalition forces had taken control of 70 percent of the city. RCT 1 moved through the Nazal, Jebail, and Resala neighborhoods while RCT 7 continued to attack the industrial sectors in the southeast. The urban fighting was fierce, with concealed sniper positions and booby-traps a constant danger. After several days of door-to-door fighting, coalition forces controlled the city center, but pockets of resistance endured for several weeks.
Operation Phantom Fury was one of the bloodiest battles in the entire Iraq War with more than 100 coalition deaths and over 600 wounded. It was notable for being the first major battle of the Iraq War that was fought exclusively against the insurgency and severely damaged its momentum.
It is our hope that both Phantom and Fury will embody the courage and fortitude of our Soldiers and Marines who took part in the Battle of Fallujah as they assist our veterans here at home.
[instagram-feed includewords="phantom"]