Blog
Jennings
Semper K9 is honored to announce the acceptance of Jennings into our Service Dogs for Veterans program. Jennings is a Shepadoodle donated by the Manley Family. Jennings is named in honor of Robert Meredith Jennings, Jr., USMC.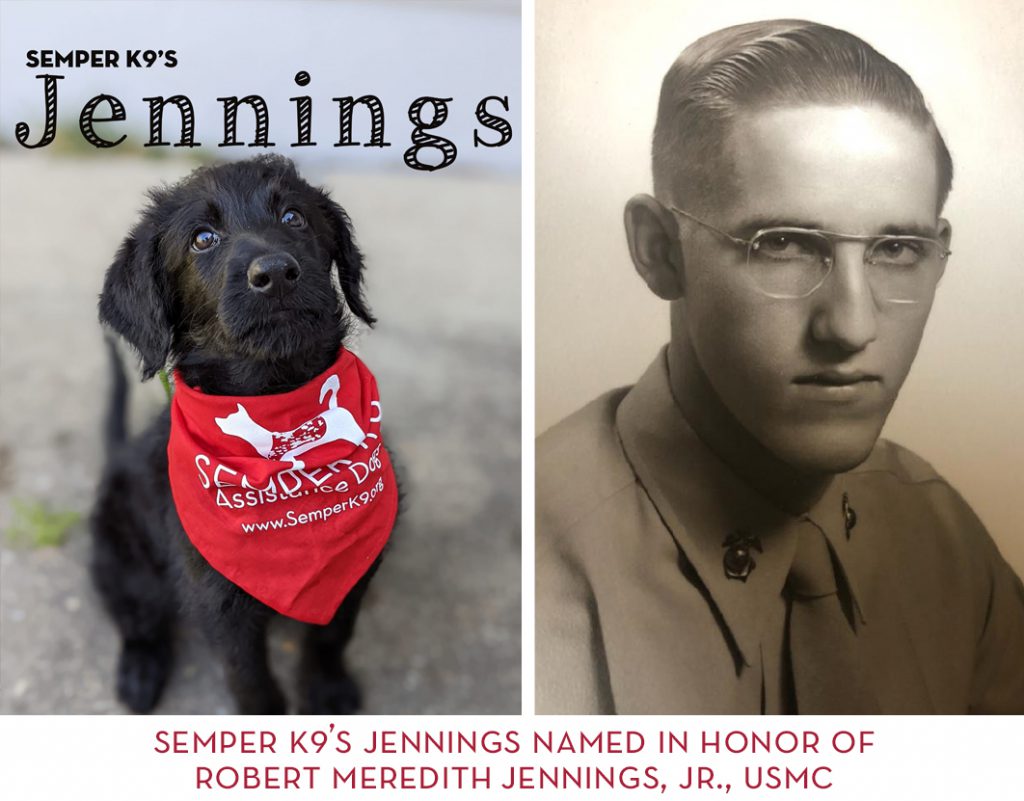 Born September 18, 1930, to Edith and Robert 'Bob' M. Jennings, Sr., Jennings grew up in the City of Richmond, Virginia. He graduated from Thomas Jefferson High School, Richmond on June 10, 1948. On the morning of November  4, 1949, Jennings went to the recruiting facility in South Richmond and enlisted in the Marine Corps. He completed the testing and after lunch, was sworn in at the Naval Diesel School. Two nights later he was on the train to Parris Island, South Carolina.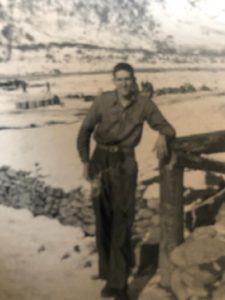 Bob started boot camp with Recruit Battalion 93 and went to clerk typist school. He boarded a ship to Japan for two weeks then a ship to Korea where Jennings joined the 1st Marine Division. He was wounded in Korea and received the Purple Heart citation. Upon leaving Korea he returned stateside and became an MP (military police). He was discharged from the Marine Corps on February 27, 1953.
After he was discharged, Bob worked a variety of jobs, at Thalhimers (Dept store), Bank of Virginia (where he met his wife, Barbara), and the State of Virginia (as an auditor). He then went on to work for an auto dealer for a short while and then worked at Emrick Chevrolet in Richmond. He retired from Emrick in 1992. During retirement, Bob worked a couple of jobs at local grocery stores. Soon after the pandemic started in 2020, Jennings decided he was done working (at age 89) and retired for good.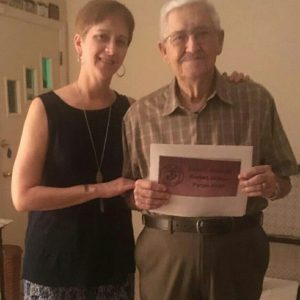 Bob has three children, David, Kim, and Bobby. He has four grandchildren, a daughter-in-law, and one great-grandson. He also has a few "honorary" grandchildren as well.
"I am still a very proud Marine and wouldn't trade my service in the USMC for anything," said Bob. 
"We are so proud to have a service dog as a namesake," said Mr. & Mrs. Jennings. "We feel certain that Jennings will be a wonderful help for a veteran and a great friend also!"
If you would like to make a gift in honor of Mr. Jennings to benefit Semper K9's Jennings' training & expenses please visit http://donate.semperk9.org. For sponsorship information please email amanda@semperk9.org.