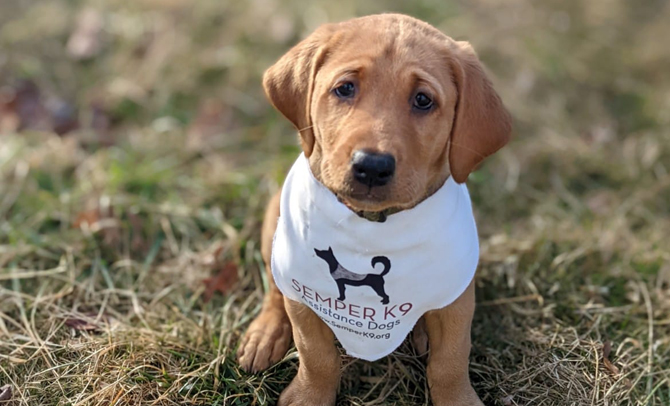 Blog
Attie
Semper K9 is honored to announce the acceptance of Attie into our Service Dogs for Veterans program. Attie is a Labrador Retriever donated by Cindy & Steve Wine of Tennessee. Attie is named in memory of Sgt. Bradley W. Atwell, USMC.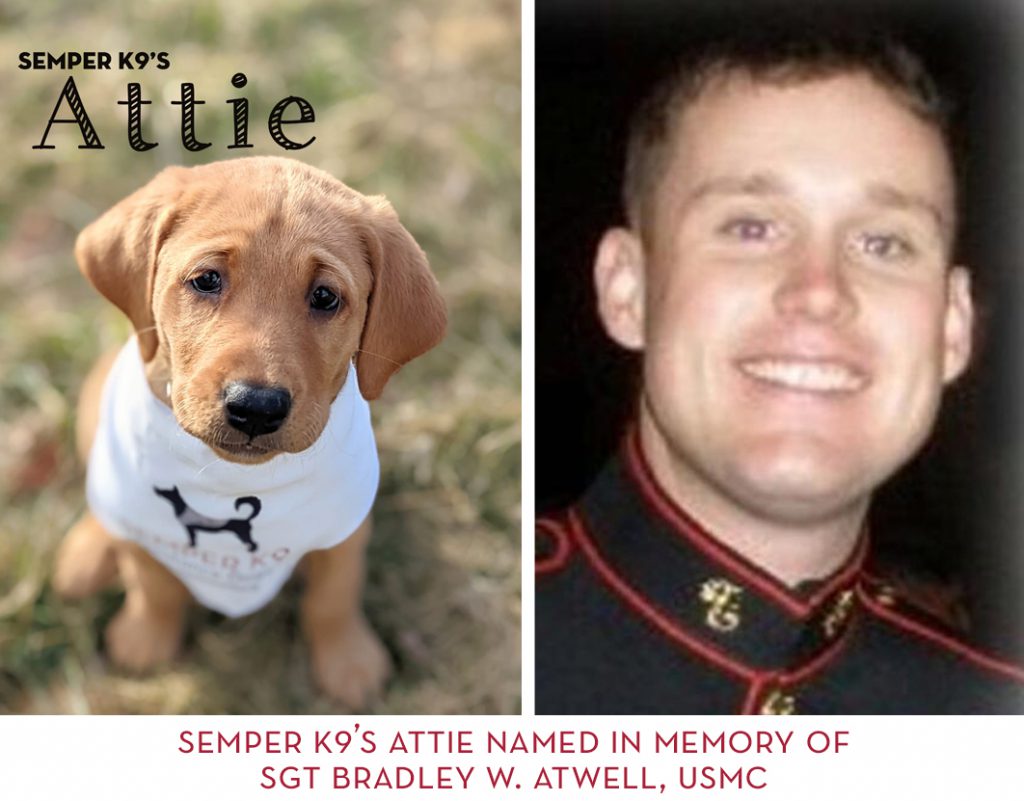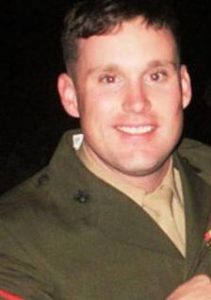 Sgt. Bradley W. Atwell, USMC, 27, Yuma, AZ., was killed in action on Friday, September 14, 2012, at Camp Bastion, Helmand Province, Afghanistan.  He was born in Kokomo, Indiana on February 20, 1985, the son of Victor Atwell and Cheryl (Turnpaugh) Atwell.  He married Danielle Cross at NAS Pensacola, Florida on November 5, 2011, and she survives.
Brad graduated from Taylor High School in 2003. He then went on to attend various colleges, most recently, while in Afghanistan, attending Thomas Edison State College, where he was only a few credits shy of his associate's degree. While there, he was also logging hours so that he would be able to obtain his journeyman's license. After a short stay in the Air Force he joined the United States Marine Corps where he worked as an aviation electrician and currently held the rank of a sergeant.
Brad was a member of the Freemasons Lodge of Russiaville, Indiana. He had a passion for firearms and enjoyed off-roading in his truck. He was also a brown belt in MCMAP and enjoyed playing and watching baseball. He was a very loving husband, son, and brother, but most importantly an extremely courageous Marine.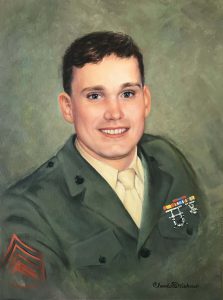 On that fateful day in September of 2012, under cover of night, fifteen Taliban, dressed as American soldiers, snuck onto one of the largest air bases in Afghanistan. What followed was a fierce confrontation that took the life of Bradley Wayne Atwell and one other soldier, and also wounded many. With hundreds of millions in material loss as well, the Battle of Bastion was the worst day for American airpower since the Tet Offensive. It is worth reading about…….how 15 insurgents with automatic rifles, grenades, and other explosives penetrated the mammoth base, Camp Bastion, inflicting the largest loss of American aircraft in combat since Vietnam. In the first moments of the attack, they destroyed a complete squadron of attack aircraft.
Upon hearing the explosions from the burning aircraft SGT Bradley Atwell heroically sprang into action. His mother describes it best: "He saved a lot of lives by waking his Marines up under this surprise attack and going ahead of them towards the fire until help could arrive. He received a purple heart for his heroism. I, Brad's mom, am the proudest as a parent can be. I love and miss him more each day."
SGT Atwell's courageous and selfless actions delayed the enemy's assault and allowed the marines to coordinate a counterattack; ultimately saving the lives of Marines and allied coalition forces. He was a very loving husband, son, brother, and friend. The son of Attie's donors served with Sgt Bradley Atwell.
"Our son, a career Marine, was on the angel flight with Lucca when she was wounded In Afghanistan and lost her leg," said Cindy WIne, donor of Semper K9's Attie along with her husband Steve. "We knew her story well and followed her recovery.  Shortly after, my sister-in-law loaned me a book,  A Dog Called Hope: A Wounded Warrior and the Service Dog Who Saved Him.  That's all it took. If we ever had the opportunity to donate a puppy, to give back,  we would." Thank you Wine family for your contribution to our mission.
If you would like to make a memorial gift in honor of Sgt Atwell to benefit Attie's training & expenses please visit http://donate.semperk9.org.
If you are interested in sponsoring Attie's training & her veteran please contact Amanda Baity at amanda@semperk9.org.