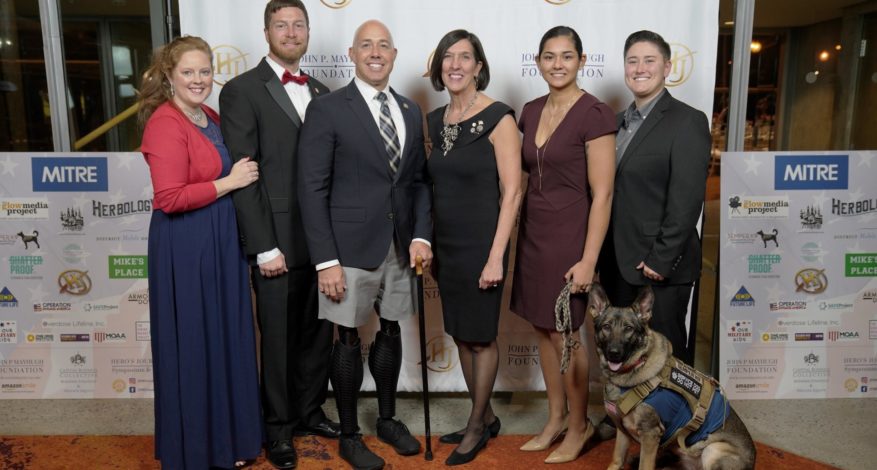 Blog
Semper K9 Assistance Dogs Honored at Hero's Journey Gala at Arena Stage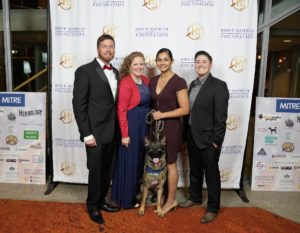 Quantico, VA- During The John P. Mayhugh Foundation's annual Hero's Journey Gala in DC, Semper K9 Assistance Dogs was awarded the 'Thank You for Making a Difference' award for its outstanding service to the veteran community. Also honored was U.S. Representative Brian J. Mast (FL-18). He received the Hero's Journey Lifetime Achievement Award which recognized his outstanding service, leadership, and dedication to advancing and promoting efforts to build better pathways of recovery for military veterans and their.
While speaking to a crowded room at Arena Stage, JPMF Founder and President Mary Lowe Mayhugh said, "Our vision is to expand the national conversation by bringing together thought leaders in government, industry, academia, and healthcare to shape holistic strategies that address the root causes of brain health issues; and to improve recovery outcomes for our military veterans and families."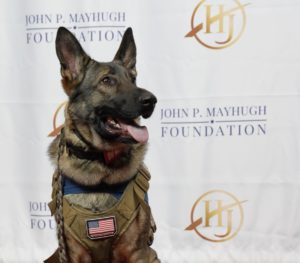 Semper K9's mission aligns with this vision, and co-founder and Executive Director Christopher Baity said, "Our mission is to enhance the quality of life for wounded service members and their families. We work closely with the veterans we serve and their families to ensure we are doing just that." One of the many things that set Semper K9 apart from other service dog organizations is their Family Integration Program, which allows the entire family; spouse, children, caregivers; to be part of the training process.
Joining Semper K9 founders on stage was LCpl Kristina Csonka, her wife Bry and Csonka's service dog, Semper K9's Rona. "Some days Rona gives me more tasks than I will of her, but every day she adapts to the inconsistent lifestyle I have," said Csonka. "She gives me the confidence to go out and do what I need to. A basic trip to the grocery store or an evening at the movie theatre is quiet for me, but very exciting to Rona."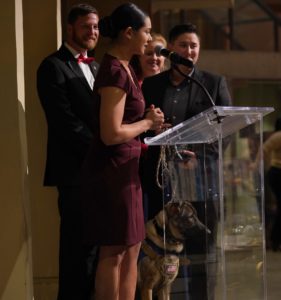 Csonka and her wife have been active in JPMF events this year, bringing Rona and representing Semper K9. "One takeaway that makes this a noteworthy organization is the dedication Semper K9 puts into the selection process," said Csonka. "Meeting the needs and lifestyle of the veteran to ensure the dog and veteran are a team and a perfect match."
To learn more about Semper K9, visit www.SemperK9.org.
About The John P. Mayhugh Foundation: JPMF is a 501 c (3) non-profit organization registered in the District of Columbia in 2017. The Foundation has embarked on a mission to address systemic barriers to recovery and improve outcomes for veterans and their families battling post-traumatic stress (PTS), traumatic brain injury (TBI), and addiction.
About Semper K9 Assistance Dogs: Semper K9 Assistance Dogs is a combat veteran founded and operated 501(c)(3) nonprofit that provides assistance dogs for wounded, critically ill and injured members of the U.S. Armed Forces and their families. Christopher Baity, Semper K9's Executive Director, is an OEF/OIF combat veteran Marine Corps dog trainer and kennel master with three combat deployments, one civilian deployment to Afghanistan and two additional overseas deployments with military working dogs. To learn more about Semper K9 at www.SemperK9.org and follow them on social media: @SemperK9.