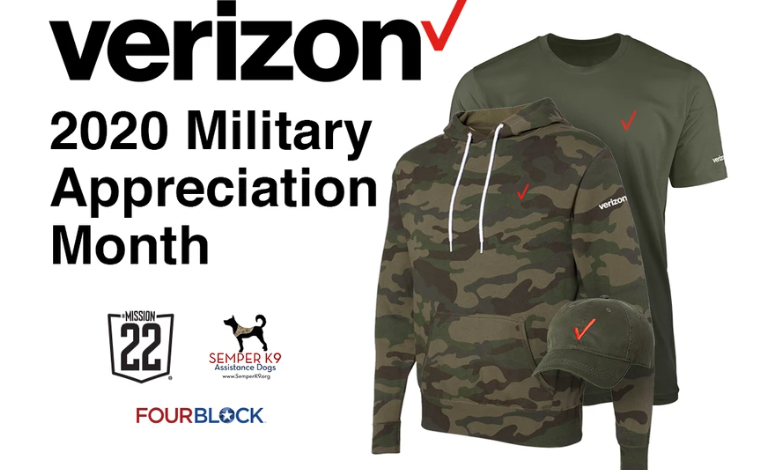 Blog
Verizon Supports Semper K9 for Military Appreciation Month
Working Together to Support Veterans and Their Families, Semper K9 and Verizon Come Together in a Strategic Partnership
(May 18, 2020) Quantico, VA- Joining forces to help those who dedicated their lives to our country, Semper K9 is proud to announce their collaboration with Verizon. Verizon has teamed up with Army veteran-owned apparel company, Call to Fire, to design a hoodie. t-shirt and hat for Military Appreciation Month. The sale of each product includes an $8 donation on behalf of Verizon to three veteran service organizations, Semper K9 Assistance Dogs, Mission 22 and FourBlock. Call For Fire will also be donating an additional 20% of all sales for the week of May 18th.
As a global organization that is proud to employ over 10,000 veterans, Verizon is committed to recognizing and celebrating all service members each and every day. Recognizing that both organizations are working to achieve a similar goal in helping veterans, Semper K9 is proud to partner with Verizon.
"We are grateful to have the support of a company that values not only its veteran employees but all who serve," said Christopher Baity, Founder, and CEO of Semper K9. "We are even more thankful for this partnership during a time where many have pulled back in their support of local non-profits. Verizon has stepped up and continued supporting its communities and the values of their company."
"We are extremely proud to be working with (Semper K9). Verizon hopes that financially the results of our rebranded military apparel will further the betterment of the Military Community," said Verizon's Senior Manager, Talent Acquisition- Military & Diversity Recruiting, Tommy Jones. "We are all aligned with the same mission which is to help service members, their families and the community be a better place tomorrow than today."
Verizon is set to launch the Military apparel through Call For Fire on May 18th at 12noon EST. Products are available for purchase at shopcallforfire.com/collections/verizon.
About Semper K9 Assistance Dogs: Semper K9 Assistance Dogs is a combat veteran founded and operated 501(c)(3) nonprofit that provides assistance dogs for wounded, critically ill and injured members of the U.S. Armed Forces and their families. Christopher Baity, Semper K9's Executive Director, is an OEF/OIF combat veteran Marine Corps military working dog handler, trainer and kennel master with three combat deployments, one civilian deployment to Afghanistan and two additional overseas deployments with military working dogs. To learn more about Semper K9 at www.SemperK9.org and follow them on social media: @SemperK9.