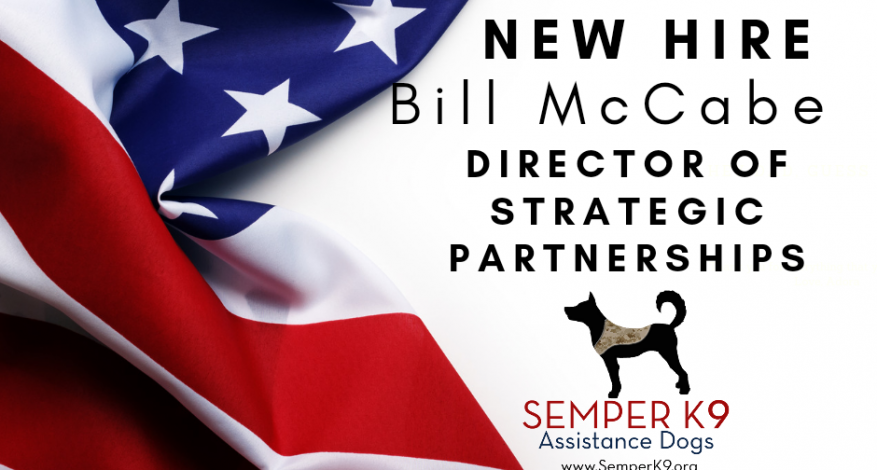 Blog
Semper K9 Hires Strategic Partnership Director
NEWS RELEASE
FOR IMMEDIATE RELEASE
August 5, 2021
Contact: Amanda Baity 
amanda@semperk9.org
571-494-5144, ext. 2
Local Nonprofit Hires Strategic Partnership Director
Quantico, VA – SemperK9 Assistance Dogs, a 501(c)(3) non-profit dedicated to providing service dogs to veterans and their families, is pleased to announce the appointment of Mr. Bill McCabe as its Director of Strategic Partnerships. Prior to his new role, Bill has served on SemperK9's Board of Advisors.
Throughout his career, Mr. McCabe has been a staunch advocate for servicemembers, veterans, and their families. He currently serves as Director of Legislative Affairs for The Enlisted Association in Washington, D.C. and also continues to serve in the U.S. Army National Guard.
"Mr. McCabe has been an advocate of ours for several years," said Amanda Baity, Semper K9's co-founder and Director of Operations. "He has served on our Board of Advisors during this time learning our mission and how he can help advocate for disabled veterans through our efforts at Semper K9. We are grateful to have him on our team."
If you would like more information about how your business or organization can collaborate with Semper K9 and its mission to enhance the quality of life of wounded service members contact Bill McCabe at 571-494-5144 ext 8 or email at bill@semperk9.org.
About Semper K9 Assistance Dogs: Semper K9 Assistance Dogs is a combat veteran founded and operated 501(c)(3) nonprofit that provides assistance dogs for wounded, critically ill and injured members of the U.S. Armed Forces and their families. Christopher Baity, Semper K9's Executive Director & co-founder, is an OEF/OIF combat veteran Marine Corps military working dog handler, trainer and kennel master with three combat deployments, one civilian deployment to Afghanistan and two additional overseas deployments with military working dogs. To learn more about Semper K9 at www.SemperK9.org and follow them on social media: @SemperK9.
###