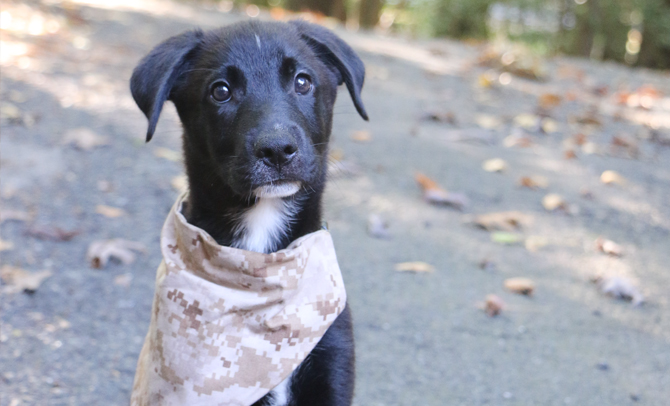 Dogs
Tink
Semper K9 is proud to announce the acceptance of service dog in training Tink into our Service Dogs for Veterans program. Tink, a 10-week old shepherd lab mix, is named in memory of USMC MWD Handler Cpl David Michael Sonka and comes to us from our rescue partner 
Operation Paws for Homes
. As a child, Tink was the nickname David's mother had given him. As our founder was also a Marine MWD handler, David's story has a special meaning to the Semper K9 family as does Tink.
David Michael 
Sonka
 was born on November 28, 1989, and raised in Aurora and Parker, Colorado.  Always a Patriot, he often spoke about serving his country after the attacks on September 11, 2001.  In Parker, 
David
 attended Pine Lane Elementary, Sierra Middle School, and graduated from Chaparral High School in 2008. He enlisted in the Marine Corps on August 11 of the same year, completing boot camp in November. In 2009, he graduated Military Police school in Fort Leonard Wood, Missouri in April and then went on to K9 school in San Antonio, Texas. After he graduated K9 in July, he was assigned to Third Marine Expeditionary Force K9 in 29 Palms, California as a Patrol Explosive Detector Dog Handler. He was paired with a Military Working Dog named Falco. Together, they were deployed in May 2011 to Afghanistan, supporting multiple special operations teams in Helmand Province. They returned home safely that December.
In June 2012 he was hand-selected to become a dog handler for MARSOC, Marine Special Operations Command, at Camp Lejeune, North Carolina. He re-enlisted in the Marines in October 2012 to accept the position and was paired with and trained his new dog, a Multi-Purpose Canine named Flex. They both completed the MPC training courses in December 2012.   On March 31st, 2013, 
David
 and MPC Flex were deployed to Farah Province, Afghanistan with Marine Special Operations Team 8223 in support of Golf Company Team 3. On May 4th, 2013 David and Flex were providing overwatch for a meeting between SOF and Afghan military personnel, when an Afghan Army soldier opened fire, mortally wounding them both and another Marine, Eric Damon Christian.
David enjoyed hunting, camping, running, grilling, watching Denver Broncos football, and spending time with his friends & family alongside his wife Torey and their 3 dogs. His passion for the Marines and for being a K9 handler was evident in his dedication and hard work over the course of his career, sometimes sleeping with the dogs in their kennels and training on his days off.  David rose to the rank of Corporal.  His MOS or Military Occupational Specialties were – 5811 Military Police, 5812 Military Working Dog Handler, 8071 SOCS-D Multi-Purpose Canine Handler.  His personal decorations include a Marine Corps Achievement Medal, a Marine Corps Good Conduct Medal, a Combat Action Ribbon, and a Purple Heart.  The MARSOC K9 Training Facility at Camp Lejeune was named after David and Dedicated on September 7, 2015.  The Town of Parker, Colorado named it's Dog Park after David.  It was Dedicated on June 14, 2017.
"I am thankful for David showing me what excellence and devotion to one's craft truly looks like," said John Descher, one of David's Marine Brothers. "[David] attacked everything in his life with 100 percent effort and seriousness, we remember how dedicated he was with Falco, but in reality, he was dedicated about everything in his life. What an excellent example of a United States Marine."
We are honored to name Tink in Cpl Sonka's memory.
You can donate supplies to Tink and our other Semper K9 pups here: http://semperk9.org/donate/supplies
Donate to support Tink at http://donate.semperk9.org or learn how to sponsor his training here.