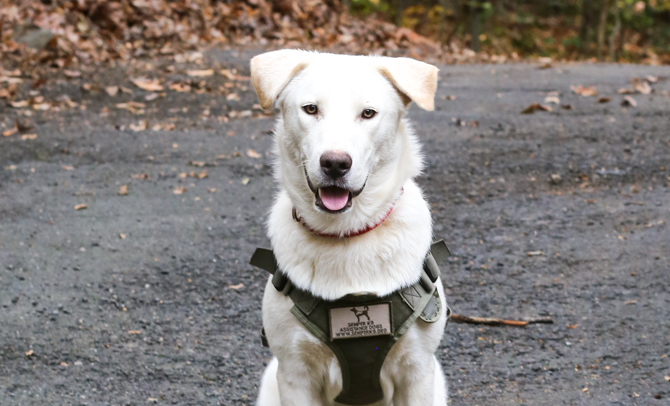 Dogs
Salty
Semper K9 is proud to accept Salty, a 10-month-old lab mix, into our Service Dogs for Veterans program. Salty comes to us from the Prince William Humane Society and was rescued by them from our local animal shelter. Salty is named in memory of  United States Air Force Maj. William "Salty" Watkins III.
William Watkins tried to experience as much of life as he could in his 37 years on this earth. As a boy growing up in rural South Boston, Va., Watkins dreamed of flying, said his uncle Jeff Haley. But Watkins also wanted to sail the ocean, perform on stage, sing in the choir and play football. "He truly enjoyed life," his uncle said.
Watkins served 12 years in the Navy as a flight officer. He graduated from the U.S. Naval Academy in 1989. He attended Woodberry Forest School, near Orange, Va., where he played football, sang in the school choir and was active in drama.  "He was such a model for so many people," another uncle, Tucker Watkins, said. "He was the peacemaker in the family. Even as a kid, he was the adult in the group."
Watkins was assigned to the 333rd Fighter Squadron based at Seymour Johnson Air Force Base, N.C. He had transferred into the Air Force from the Navy to be near his wife, Air Force Maj. Melissa Watkins, an intelligence officer.
On April 7, 2013, Watkins was killed in action while flying a combat mission near Tikrit, Iraq. Watkins was one of two officers killed when the jet went down. The pilot, Capt. Eric Das of Amarillo, Texas, also passed.
He is survived by his wife and two children, one of whom was unborn at the time of his death, as well as his mother and two siblings. "Bill's legacy will continue in the lives of his two children as it will in the memories that each of us holds dear of this truly caring and loving man," Melissa Watkins said in a written statement.
Helen Younce, a family friend, shared this with Semper K9;
"Bill is known to different friends by different names. He is Bill to many of us, William to others, and Salty to those who knew him in the Air Force because of the time he'd spent in the Navy. No matter what we called him, he was our friend. 
I knew Bill from Camp Chanco, and we always had a close connection.  There was a value and depth to Bill's friendship that is hard to find. He had a way of listening and remembering things that other people didn't and he always made a point to keep in touch.  
Bill and his wife, Melissa, came to visit me in the hospital in December of 2002, just after my second daughter was born. My now ex-husband and I had moved to Bill's hometown in Virginia, and they were there with their young son William visiting family. I remember that they were excited to share with us the news that day that they were expecting a second child. Bill was about to leave for Afghanistan, so I was thrilled to have been able to see him before he left, to introduce my new baby, and to hear their exciting news. He was as happy as I had ever seen him!
It was at Bill's funeral soon after that I realized his gift. It seems that he was one of those rare souls who made everyone feel genuinely important in his life. He touched lives and then very deliberately stayed connected. He made a point to remember things about people, and his connection was important to each and every one of us. 
I didn't speak that day at his funeral, although I wish I had. I was honestly overwhelmed by all the people who knew and loved him so deeply. If I could go back now and share what I've learned about Bill, I would say that I am truly and deeply honored to have known a man who was so genuine to so many. To have known him was to have come as close as I can imagine to true honor, integrity, and kindness. 
He was always incredibly good to me. 
He was my friend.
And he was the salt of the earth…"