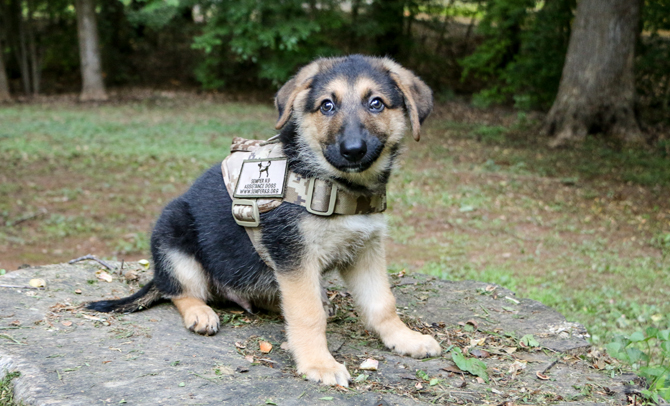 Dogs
Perkins
Semper K9 is proud to announce the acceptance of service dog in training Perkins into our Service Dogs for Veterans program. Perkins, an 8-week old shepherd lab mix, is named in memory of USMC Combat Photographer Corporal William T. Perkins Jr. and comes to us from our rescue partner Operation Paws for Homes.
"I nominated the name Perkins to represent the Combat Camera Marines that have given the ultimate sacrifice for our Country," said Semper K9 Veteran, Jessica Rambo. "This Semper K9 pup, Perkins, will be a commemoration of Cpl. William T. Perkins, who sacrificed his life to cover a grenade and absorb the fragments, saving the lives of three fellow Marines. Perkins is the only combat photographer who posthumously received the United States' highest military decoration of valor – the Medal of Honor."
The Vietnam War was the nation's first televised war. Within hours, combat footage of young Americans in uniform in the jungles of South Vietnam could be seen in living rooms across the country. Among those capturing the footage was Corporal William T. Perkins Jr., a 20-year-old Marine deployed to Vietnam as a combat photographer.
Armed with a Bell and Howell 16mm motion picture camera and his personal 35mm still camera, Perkins documented the actions of his fellow Marines as they supported and defended the South Vietnamese people against the communist Viet Cong and North Vietnamese forces. For his heroism in protecting those Marines, Perkins became the only combat photographer ever honored as a recipient of the Medal of Honor.
That fall, Perkins requested assignment to the U.S. Army Signal Center at Fort Monmouth, New Jersey, to receive training in motion picture photography. His headquarters agreed, but with a caveat: Perkins could attend the school, but his follow-on assignment would likely include service in the Republic of Vietnam. Undeterred, Perkins headed east and eagerly immersed himself in the art. "I can't believe how lucky I am to be doing exactly what [I want] to be doing," he wrote home to his family.
Below are examples of photographs Perkins took during his travels in and around the northern provinces of the Republic of Vietnam in August and September 1967, paired with words he wrote home in letters to his family.
Just as the last helicopter flew off from the clearing in the dusk's fading light, all hell broke loose. Three NVA companies assaulted Charlie Company on two sides. Enemy blast and fragmentation grenades rained down upon the Marines from NVA soldiers who tied themselves high up in the trees on the perimeter edge. Green tracers of the enemy weapons slashed across the American lines as friendly red tracers answered back, the roar of battle punctuated by screams of the wounded. Enveloped by darkness, Perkins took up a position by a log on the edge of the landing zone perimeter together with Marine Corporal Fred Boxill and Lance Corporals Michael Cole and Dennis Antal.
Enemy fire was relentless. Suddenly, an enemy grenade appeared in the air, silhouetted against the flash of another explosion. Antal saw the grenade falling, as did Perkins. Propping himself up on his arms, his Bell and Howell still strapped to his chest, Perkins cried out "incoming grenade" as the explosive landed behind the log, three feet from the huddled Marines.
Perkins dove at the grenade, kicking Antal in the process, and tucked it securely beneath his chest. The grenade exploded, the blast lifting Antal in the air as shrapnel wounded both him and Boxill.
As a fellow Marine treated the two wounded men, a navy corpsman arrived to check on Perkins. When Antal asked, "Is he all right?" the corpsman shook his head. As dawn broke on October 13, 1967, eight Marines—including Perkins—lay dead, 39 men were wounded, and 40 enemy lay dead scattered in and around the landing zone perimeter.
In a private ceremony at the White House on June 20, 1969, President Richard M. Nixon presented Corporal Perkins's posthumously awarded Medal of Honor to his parents, William and Marilane Perkins. The citation accompanying the decoration proclaimed how Perkins,
in a valiant act of heroism, hurled himself upon the grenade absorbing the impact of the explosion with his own body, thereby saving the lives of his comrades at the cost of his own. Through his exceptional courage and inspiring valor in the face of certain death, Corporal Perkins reflected great credit upon himself and the Marine Corps and upheld the highest traditions of the United States Naval Service. He gallantly gave his life for his country. 
Fifty years after his heroic deed, Perkins's actions are not forgotten. Perkins's films from his time in Vietnam remain preserved for viewing at the National Archives in College Park, Maryland. His footage captures the faces and actions of his fellow Marines, images preserved by a selfless young man whose love of country and photography made him a national hero.
The name of William T. Perkins Jr. is inscribed on the Vietnam Veterans Memorial ("The Wall") on Panel 27E Row 097.
William T. Perkins Jr. is buried in San Fernando Mission Cemetery in San Fernando, California.
"I served 10 years as a Marine Corps Combat Cameraman. In that time, my fellow comcam Marines and I have documented both still and motion imagery in support of combat, humanitarian relief, intelligence, reconnaissance and other operations," continued Rambo. "With a great call to duty, many have made the ultimate sacrifice. This pup, just like his namesake, will be the epitome of what Marines do and what Semper K9 does, which is Veterans helping Veterans."
Follow Perkins's progress on our social media sites:
You can donate supplies to Perkins and our other Semper K9 pups here: http://semperk9.org/donate/supplies
Donate to support Perkins at http://donate.semperk9.org or learn how to sponsor his training here.
​