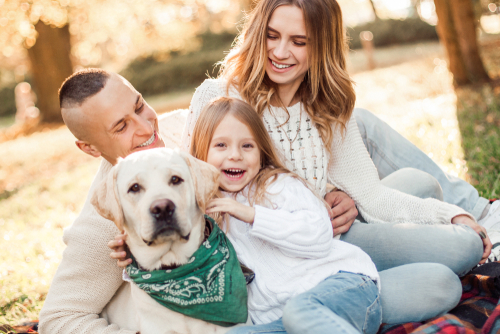 Blog
Is A Service Dog Right for Your Family?
By Christopher Baity, Founder & Executive Director, Semper K9 Assistance Dogs
The first question to ask before this question is "When is a service dog finished with his/her training?" The easy answer is: Never. Training stops the day after your dog passes, that is a common and accepted theory throughout the working dog industry. The level of obedience of a dog is perishable, but more importantly, maintenance training is a necessity to ensure the emotional and physical well-being of your dog, whether a service dog or not. 
With a service dog, no matter the trainer, breed or type, it requires hours of training to meet the minimal requirements to be considered 'A Certified Service Dog.' Of course, there are service dogs out there that are phenomenal at their daily duties. Does that mean they were born that way? No. It means someone, probably an entire network of volunteers and trainers, spent a large amount of time training and teaching the skills needed for that dog to perform.  It also means the handler is continually reinforcing positive & correct behavior, and teaching the dog new skills and tasks to keep their mind sharp and attuned to the needs of their handler. The dog will spend 5+ years of their active life going everywhere under the sun and performing at 90% proficiency, regardless of the distractions and intensity of their daily lives. This type of situation does not happen without a tremendous amount of patience, time, and funds. Can you commit to 5, 8 or 10 + years to continuing the work necessary to have an ambassador in the service dog world? 
Talking with your medical team about utilizing animal-assisted therapy in your care plan is the next step. It should ultimately be a decision your medical team offers as a method of treatment for your disability. The decision should never be made hastily or without weighing in on all deciding factors: Your occupational, social & recreational needs will help determine if a service dog is right for you, and ultimately if a service dog will Enhance Your Quality of Life!
Occupational, Social & Recreational Needs
The many abilities of a service dog include navigating the public and assisting with public situations.
 

Occupational:

Is your workplace/duties conducive to your treatment plan? Will the presence of a service dog, cause undue stress to you or your co-workers? When you begin training/placement with your service dog, you should receive or have assistance with providing a 'Reasonable Accommodations' letter to your employer addressing the addition of a service dog to your routine. This letter should be specific to your dog and you. It should answer any questions your employer has about your needs and your service dog.

 

Social:

There is always the potential that the improper training or use of a service dog may create 'enabled' behavior or protective tendencies. ALL service dogs should be social, indifferent to stimulus and unobtrusive to the public. Whether engaging with your friends or answering the cashier at the grocery store, a service dog creates comfortable situations for you with their presence and obedience. Their role is NOT to protect you from strangers.

 

Recreational:

The service dog will require food and water; therefore, bathroom breaks and exercise. A service dog's size, stamina, endurance and 'spirit' are all characteristics an organization or trainer should consider when pairing a service dog & handler. Your recreational needs should also be discussed with your medical team, to ensure your health and physical well-being are considered.
Eligibility and Finding the Right Organization
A service dog's primary function is to enhance your quality of life by assisting with daily tasks and activities. The providing organization or trainer should consider all of these factors when paring a service dog with a handler. 
 

Know your needs

: It's not as simple as the nearest, cheapest, or prettiest service dog organization. Visit the website of an organization you are interested in applying. Inform yourself of the type of dogs they provide. You may need to consult your medical team to identify the correct type of service dog. 

Dog types

: A choice, but not the priority. Choose the organization that provides the type of breeds of dogs you are interested in. While it is considered ok to have expectations, keep an open mind. A dog's size, energy level, shedding patterns, growth rates, food intake, and life span are all considerations the providing organization should consider in the training and placement process.

 

Costs

(if applicable): Not just the cost of the dog and his or her training, the long-term care, and the health of the dog. It can easily cost over $2000 per year to maintain a healthy dog.  These costs may only include, kibble (dry dog food), preventatives, and veterinarian visits. Some dogs will need supplemented diet(additives), treats, emergency or additional veterinary needs. The additional cost of nail trimming and grooming if you are unable to do these yourself. 

 

Involvement

: Is the program in or out-patient? How do you complete the minimal 120 hours of public access training with your assigned service dog-in-training? Do they provide a training facility with on-hand instructors? Will you accrue Out-of-pocket expenses? Do they utilize credentialed dog trainers? 

 

Owner trained

vs.

organization trained

: Owner training is an option, although it may prove to be very expensive, time-consuming, and less than successful. Having the outside view of your individual needs, the service dog's capabilities and how they assist your disability is a more important consideration than assisting in all of your dog's training.
Research, Research, Research
There is a tremendous amount of knowledge online and in the media regarding Service Dogs & Emotional Support Dogs. Some of it is very subjective, so double-check information with any number of organizations. A reputable organization should be able to answer any of your questions. I recommend visiting the Association of Service Dog Providers for Military Veterans' website and look to an organization that is their partner member. These partner members must meet training standards and utilize procedures that all member organizations follow are also listed on their website: www.servicedogs4vets.org.
Having a service dog is about enhancing your quality of life by assisting with your needs. It's not about having a specific breed as your service dog. Having the right dog for you and your family should be the goal.
Christopher Baity is the founder & Executive Director of Semper K9 Assistance Dogs. An OEF/OIF USMC veteran, Baity was a Military Police Officer, Military Working Dog Handler, Specialized Search Dog Trainer & Kennel Master. He has over 20 years of professional dog training experience. He and his wife founded Semper K9 in 2014. You can find their complete story here: https://www.semperk9.org/about-us/mission/