B A R K
Baity Acts of Random Kindness
Throughout the year, the Baity family performs random acts of kindness. Be sure to pay it forward with your own kindness. If you feel the need to donate to our cause, we are currently collecting donations for our Facility Fund. Click here for more details and learn how you can make your tax-deductible donation today. Find out how the Baitys had an act of kindness bestowed upon them. by Mike Rowe and his new show Returning the Favor.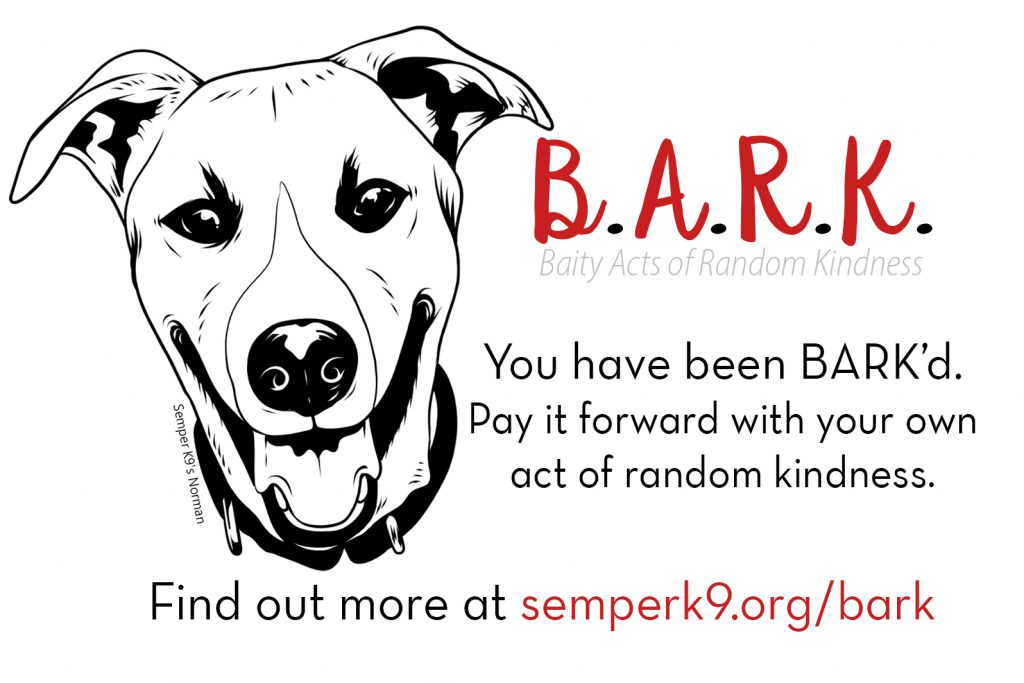 Semper K9 Featured on Mike Rowe's Returning the Favor
Soldier Dogs

Mike and the team head to Woodbridge, Virginia to meet Chris and Amanda Baity who run Semper K9, an organization that is rescuing dogs and Veterans.

Posted by Returning The Favor on Monday, April 2, 2018
#baityactsofrandomkindness #semperk9
Be Kind to One Another
By Amanda Baity
A saying made popular by Ellen DeGeneres, "Be Kind to One Another," is something we should all adopt. While it can be hard during the holiday season…or while commuting in Northern Virginia traffic, being kind seems to have escaped us all. When I do encounter an act of kindness, I am so blown away that there are still amazing people who want to make this world a better place. Although I find pleasure in giving to others, it can be hard for me to accept it myself. Another reason I am grateful when someone bestows a kindness or helping hand to me.
For years, my family has had a tradition of doing random acts of kindness leading up to the holidays. My children love being able to hand out small gifts or pay for the person behind us in line at the fast-food drive-thru. They turn and look behind at the surprise on people's faces and giggle. That sound warms my heart and gets us all in the spirit of the season. Circling back to Ellen, my oldest son loves her "12 Days of Giveaways." He loves to watch her audience go wild with excitement when they find out their prize! He enjoys picking out things to give to others and the joy they express once the recipient realizes the gift is theirs to keep. At times, we do not get to see that recognition…another exciting part of our tradition.
In 2015, after several months of brainstorming, we created a card to go along with our acts of random kindness to encourage others to pay it forward. Since my husband and I founded Semper K9 Assistance Dogs several years ago, we decided to call our campaign B.A.R.K., or Baity Acts of Random Kindness. The pup drawn on the card is our sweet Norman. He is Semper K9's mascot dog and named after mine and Chris's Marine Instructor in our JROTC program, James N. Cunningham Jr.  When we do something nice, we attach a card, which sends people to a website where we have a custom message and video, challenging others to be kind along with suggestions on ways they can give back for the holidays…or more importantly every day!
I challenge you all to do at least one random act of kindness every week. Get your children involved and make it a lasting tradition for your family. And remember, be kind to one another!