Semper K9 Press Release: Local Veteran to Help Service Members and Rescue Dogs with New NonProfit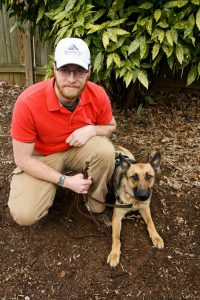 2/1/2015- Semper K9 Assistance Dogs, a local nonprofit  in Prince William County, is currently looking for candidates in need of a service dog. Semper K9 provides Assisted-Living K9s for wounded, critically-ill and injured members of the U.S. Armed Forces and their families.
"It takes at minimum 6-9 months to train a young adult dog to become a service dog. This gives us time to locate and match a service member with their future service dog, who's training is tailored to meet the new handler's specific needs." stated Baity who is a veteran Marine Corps dog handler and kennel master. With 6 overseas deployments during his eight year career, Baity recognizes the overwhelming need for help of veterans suffering from Traumatic Brain Injury (TBI) and Post Traumatic Stress (PTSD).