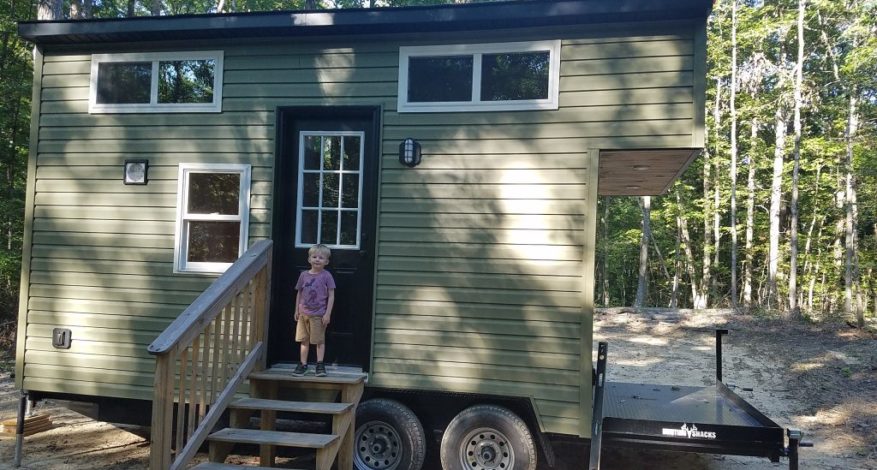 Blog
Semper K9's Tiny House Adventures Have Begun
By Amanda Baity
When we started Semper K9 almost 5 years ago, we had no idea what our future would look like…other than the mission itself. We had plans on what we wanted to do but we didn't know what that actually looked like. One year into operations we rented an old family farmhouse on 50 acres. The house was a wreck and almost unliveable but we cleaned it up and made it a home for our family. While we were there, we had envisioned putting tiny homes up on a hill that looked down to the small 2-acre lake that was in the front portion of the land. Since we didn't own the land, we did not want to make permanent improvements and the tiny homes were an easy solution! We had started a honey bee colony, large fenced vegetable garden, built a chicken coop and had 2 dozen hens, cleaned up the lake area and built bridges and picnic tables with the help of others in the community. Fast forward a year and we had developed some of the land and prepped for growth…the rug was pulled from under us when we were told to move.
We quickly regrouped and found a home close by that was owned by a Navy veteran. While operations for Semper K9 could not truly grow during our time here, we knew this would allow us to reevaluate our plans and create something better! In July of 2017, we (Semper K9) purchased 33 acres adjacent to Marine Corps Base Quantico. We had searched for over a year looking for the perfect place, even explored doing a rehab on a home and barn combo. The raw land was the best option because it gave us an opportunity to mold this into exactly what was needed to optimize Semper K9's operations.
5 months after we purchased the land and no progress had been made. We were still working on the design and sitemap, but we also did not have extra funds to prep the land. We starting hitting every grant or sponsorship we could find but that would take months to see any results. In January of 2018 we had a film crew at our home doing a documentary on Chris & I and Semper K9. Little did we know, the crew was actually part of the production team for Facebook Watch's new show Returning the Favor. You can read more about this on Chris's post here: https://raisingbaitys.com/my-returning-the-favor-experience. They jump-started our building project an built an open-air, covered pavilion along with a fenced in area for the pups and a small nature trail. Our episode currently has almost 11 million views. You can see it in our sidebar to the right.
This recognition and boost on the national platform continues to give back as we have made many partnerships to help further our mission. It also gained the attention of a local family. "We were so impressed with the dedication that we saw from both Amanda and Chris for this amazing cause," said Maureen Sievers. "We wanted to help them achieve their dream at Semper K9."
The Sievers donated $100,000 to Semper K9, which will allow us to continue meeting our goals that Mike Rowe had a hand in getting started on
Returning the Favor
. "There are no truer heroes than our military personnel," said Jen Sievers, who is now a volunteer with Semper K9. "To find an organization that supports both veterans as well as provides a purpose for rescue dogs sparked immediate interest and desire to help." To say we were thrilled to receive this gift is an understatement. We have been so humbled that others believe in our mission or in us so much that they volunteer, some of our team work almost full time, take time away from their personal lives and/or donate funds they have worked hard to receive. We are so appreciative of everything that is given to
Semper K9
as it only helps us rescue more dogs and enhance the lives of more veterans.
This leads me to the actual reason for this post. I wanted to announce that thanks to a grant from the Jesse and Rose Loeb Foundation, we are able to purchase our first tiny home and are that much closer to allowing veterans coming for training at Semper K9 to stay on premises. We have plans to build 5 tiny homes on the back side of our facility near the tree line. Having this one out now will allow us to start operating at an almost full circle within our programs.
I will be sharing more adventures as we decorate, secure a sponsorship and spend time deciding on our other custom tiny home options. If you are interested in sponsoring our very first tiny house or future tiny homes with naming opportunities, decor keeping items stocked for veterans stays or volunteering to clean and maintain please follow this link and indicate your wishes in the comments box: 
http://semperk9.org/about-us/contact-semper-k9/
We will also be allowing overnight stays starting this fall to help raise funds for our other projects. If you are interested in being on the list to spend the weekend at Camp Semper K9, please complete the contact form on our website here and indicate that you want to stay in one of our tiny homes when a veteran is not in training: 
https://raisingbaitys.com/contact-the-baitys/
I hope you enjoy our posts about the tiny home. We will do a virtual tour once we have everything set up! Until then, enjoy this first look into another new adventure!