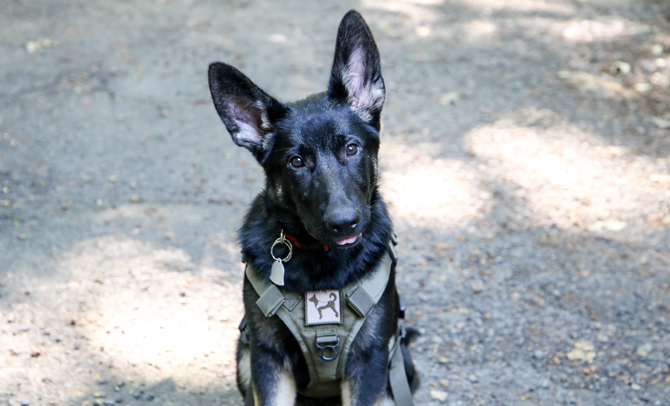 Career Change
Fletch
Semper K9 is honored to announce the acceptance of Fletch, a 16 week old German Shepherd, into our Service Dogs for Veterans program. Fletch was donated by Timothy Huff of Culpeper, Virginia . He is named in memory of Chief Petty Officer, Orris B. Fletcher, USN Ret.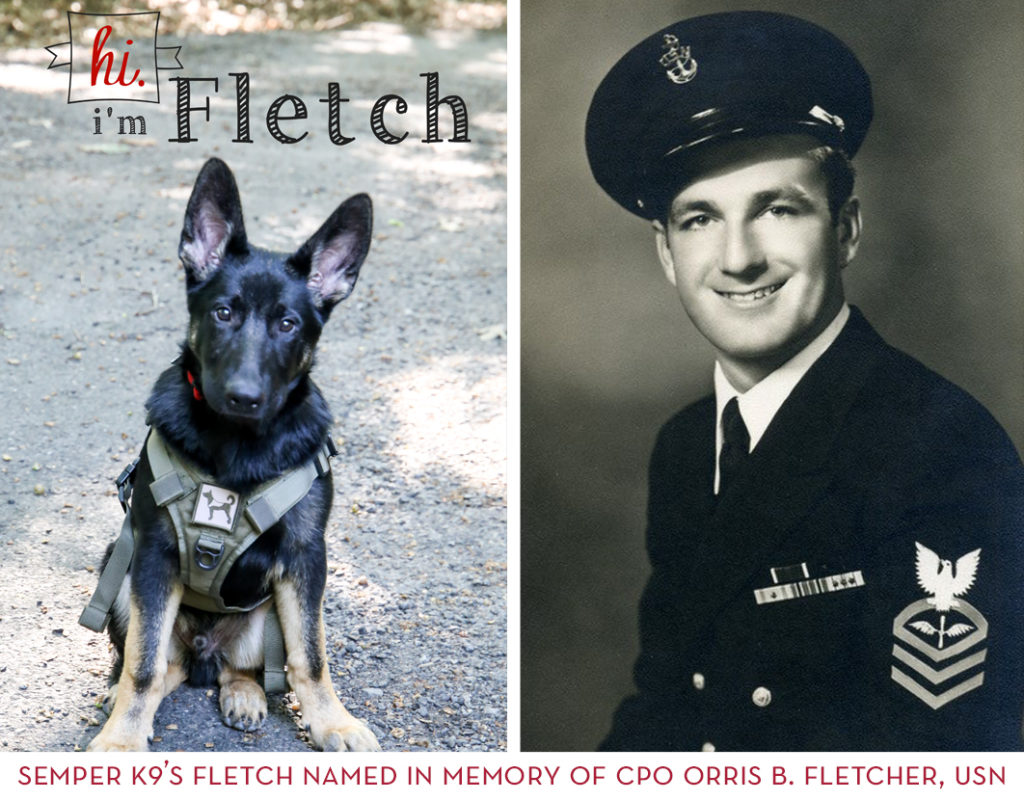 Fletch, the oldest of four children, was born in Pesotom, IL on June 20, 1919, to Clyde and Estella Fletcher. He attended Champaign High School and upon graduation in 1937, he enlisted in the United States Navy. He was assigned to the USS Astoria as an aviation mechanic.  On the night of August 9, 1942, the Japanese attacked the Astoria, along with three other ships, near Guadalcanal in what became known as the Battle of Savo Island.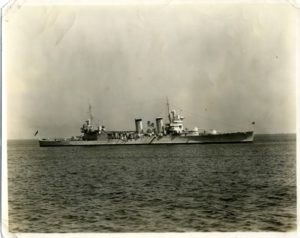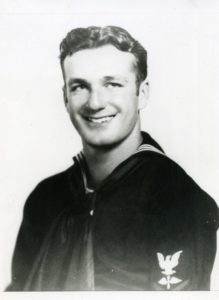 As he was trying to get his aircraft ready to fly, Fletch was severely wounded. He was hit in the back, head, knees, and hip, and then fell ten feet from the catapult. Soon his airplane, with a full tank of fuel, caught fire and Fletch lay wounded and trapped by the burning fuel.
Fletch's shipmate and friend spotted him, put a life vest on him, and moved him under fire through the flames. The Astoria was going down, so he took Fletcher over the side into the water and swam away from the ship. That night Japanese destroyers, searching the water with spotlights, machine-gunned any survivors they could find.  Throughout the long night, the men in the water who survived the Japanese had to fend off vicious shark attacks.
The next morning, sailors on board the USS Wilson pulled Fletch from the water. Approximately one-third of the crews from the four ships attacked that night were either killed or wounded.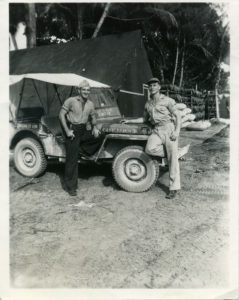 After spending months receiving medical care, Fletch recovered and in 1943 was returned to the fight in the Pacific aboard the USS San Pablo, which conducted antisubmarine operations near New Guinea.
Following the war, Fletch married Priscilla Colby on August 26, 1945, and had two children. In 1957, after an honorable career serving in Vietnam, Korea, and receiving a Purple Heart, Orris Fletcher retired from the Navy as a Chief Petty Officer. He then attended Rhode Island State College and continued his service to our nation as a high-temperature scientist at the Argonne National Laboratory in Illinois. After retiring from his second career in 1990, he and Pricilla moved to Arizona, where Fletch was an active member of Temple Lodge #51 and Sabbar Shriners of Tucson. He loved woodworking and spending time helping out family members and could fix just about anything.
On September 30, 2005, Fletch passed away at the age of 86.  He is described by his family as being a fun-loving and wonderful grandpa, who could entertain his great-grandkids for hours. He enjoyed spending time with his family and his legacy continues through his children, grandchildren, and great-grandchildren.
[instagram-feed includewords="fletch"]