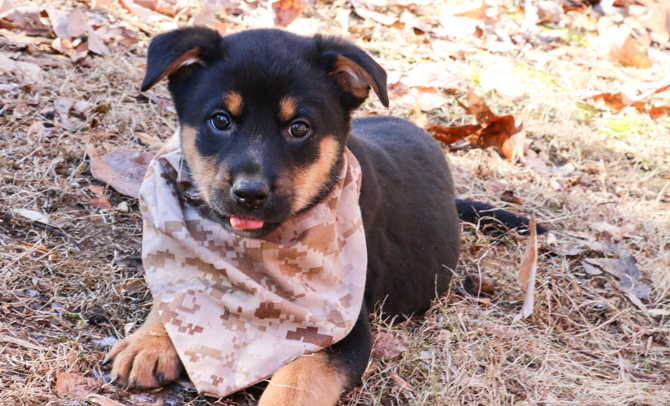 Dogs
Ashley
Semper K9 is honored to accept service dog in training Ashley into our Service Dogs for Veterans program. Ashley, a rescue pup from Operation Paws for Homes, is named in memory of fallen Prince William County Police Officer and Marine Corps Reservist Ashley Guindon.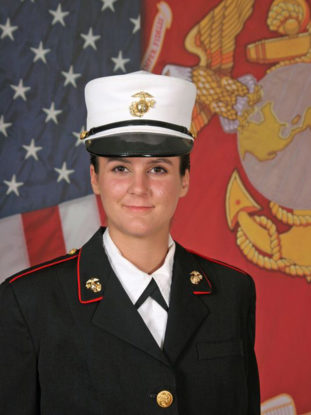 Guindon graduated from Merrimack High School, Merrimack, N.H. in 2005. While in high school, she was in the Jr. ROTC program. Ashley received a Bachelor's Degree in Aeronautical Science from the Embry-Riddle Aeronautical University in Daytona Beach, FL. Guindon joined the Marine Corps in 2007 and served in the Reserve until 2015. She was assigned to 4th Marine Logistics Group and served as a field radio operator and personnel retrieval and processing specialist. Her love of flying was apparent, as she got to fly a helicopter while in the Marine Corps Reserves, and was involved in other aeronautical endeavors. She also assisted with the Mortuary Affairs Office, while serving our country.
During her free time, Ashley loved to dance, read and travel. A total fashionista to her friends and family, Ashley also had a special fondness for her furry friend; "Scout," the family Pug.
In addition, Ashley was always there for her community, volunteering with the Suicide Prevention Program, and helping at the soup kitchen on Thanksgiving, and other community activities where a helping hand was needed.
Ashley began her career May 27, 2011 with the Prince William County Police Department as an intern with the Special Victims Unit and graduated with honors from the Police Academy in June of 2015. After taking a short leave of absence, Ashley returned to the PWC Police Department and was sworn in on February 26, 2016. She was killed in the line of duty February 27, 2016. Ashley was laid to rest at Saint Thomas Cemetery in West Springfield Massachusetts.
Follow Ashley's progress on our social media sites:
You can donate supplies to Ashley and our other Semper K9 pups here: http://semperk9.org/donate/supplies