Semper K9 COVID-19 Prevention & Resiliency Plan
Semper K9 & Social Distancing
With new social distancing guidelines and executive orders in Virginia, Semper K9 has been forced to limit operations.
These guidelines have pushed back our veteran training schedules, adoption of service dog candidates and possible delays to our facility construction schedule.
With your support, Semper K9 staff & volunteers will be able to continue our life-saving mission of providing custom-trained service dogs for disabled veterans while managing our graduated teams.
With our financial contributions taking a significant drop in the past weeks, monetary support is more crucial than ever.
You can donate online at http://donate.semperk9.org
or via mail to:
Semper K9 Assistance Dogs
PO Box 451 
Quantico, VA 22134
COVID-19 & PTSD
Times of forced isolation & quarantine can be challenging for a veteran who struggles with PTSD.
We are working hard to communicate with our graduates & their families to assist with resources for urgent needs as they arise.
On top of working with graduates for service dog maintenance training and connecting them with resources, we are currently providing the following:
Dog Food Assistance
Emergency Veterinary Care
Supplying Monthly Preventatives
Assisting with essential needs
Connecting families with trusted resources for emergency support
Helping our community of graduates & their caregivers stay connected for additional support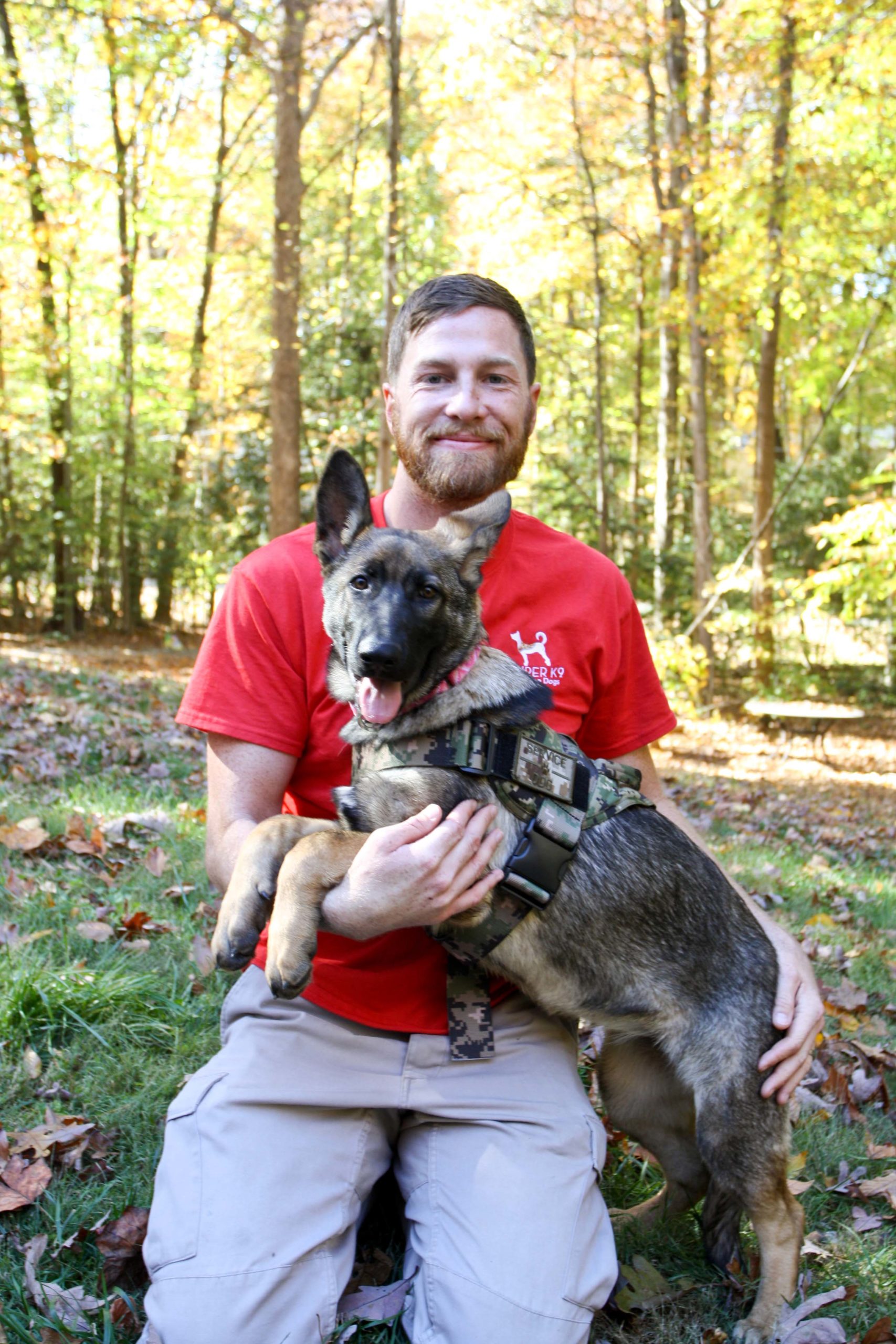 Semper K9's Response to COVID-19
As the global health community and the world come together to face the COVID-19 pandemic, we wanted to reach out and let each of our supporters know exactly how Semper K9 is responding to these challenges.
The decisions we make are, as always, being guided by our commitment to Semper K9 veterans and their families, staff, volunteers, dogs, and our communities.
The Governor of the Commonwealth of Virginia has implemented an executive order which does affect our standard operating procedures. This executive order, along with the World Health Organization and Center for Disease Control guidelines, has required us to implement changes effective immediately. Here is how we are responding:
PEOPLE
We are taking care of our people- veterans, staff, and volunteers- and we are focused on their safety at this time. We are suspending all in-person training classes and implementing remote work and online training. We are following the World Health Organization's recommendations around social distancing to keep everyone safe. We are actively working on ways to support our veterans and their families, staff & volunteers through potential disruptions by maintaining standard operating procedures that comply with local, state, and federal orders. This also includes maintaining the health of our service dogs in training with routine medical treatment and emergency care if needed.
MISSION
We are committed to thinking long term about our mission- enhancing the quality of life for wounded service members and their families- despite the short-term insecurity. Right now, the spread of the virus has had little effect on our ability to work with our teams, and we are diligently working to ensure that we can adapt to the impending changes we face. Though we do not know what the near future may hold, we do know that your support empowers us to keep going in the face of this growing pandemic.
SUPPORT
There is no doubt that we are all in this together. While it is unfortunate to cancel or postpone events and fundraising opportunities to support our veterans, we know that it is the responsible decision for our staff, volunteers, and for the health and safety of the greater community. In place of supporting our events we hope that you will join us in one or all the following ways:
·        Consider making a donation. Join us in making a difference; your assistance will help a veteran receive a custom trained service dog to aid in their recovery. http://donate.semperk9.org
·        Become a Sponsor. Sponsor one of our Service dogs, a Veteran, or even our new facility and see how even just one person can make a big difference. http://www.semperk9.org/sponsorship/
·        Honor a loved one. You can honor a loved one and be part of Semper K9's history! http://www.semperk9.org/bricks/
Thank you all so much for your dedication and support to Semper K9 during these uncertain times. Your efforts will make a big difference in the lives of many veterans and their families in our communities. We will make it through this together, and please remember to support your family and community as best as you can. Be kind, be generous, and stay safe!
Semper Fidelis.
Christopher Baity
Founder & CEO
Semper K9 Assistance Dogs